When you're looking for inspiration with your interior design efforts, fine art photography prints offer a plethora of options that you should know about. From panoramic images, abstract photography, grand mountain photography, springtime and flowers, waterfalls, vertical prints, black and white photography, to aerial photographs and the American southwest and national parks. Kane Engelbert's full online collection provides many options and we'll discuss how to use them creatively to bring the outside into your home to enjoy every day.
Consider Your Wall Space: Panoramic Image, Vertical Art, or Standard?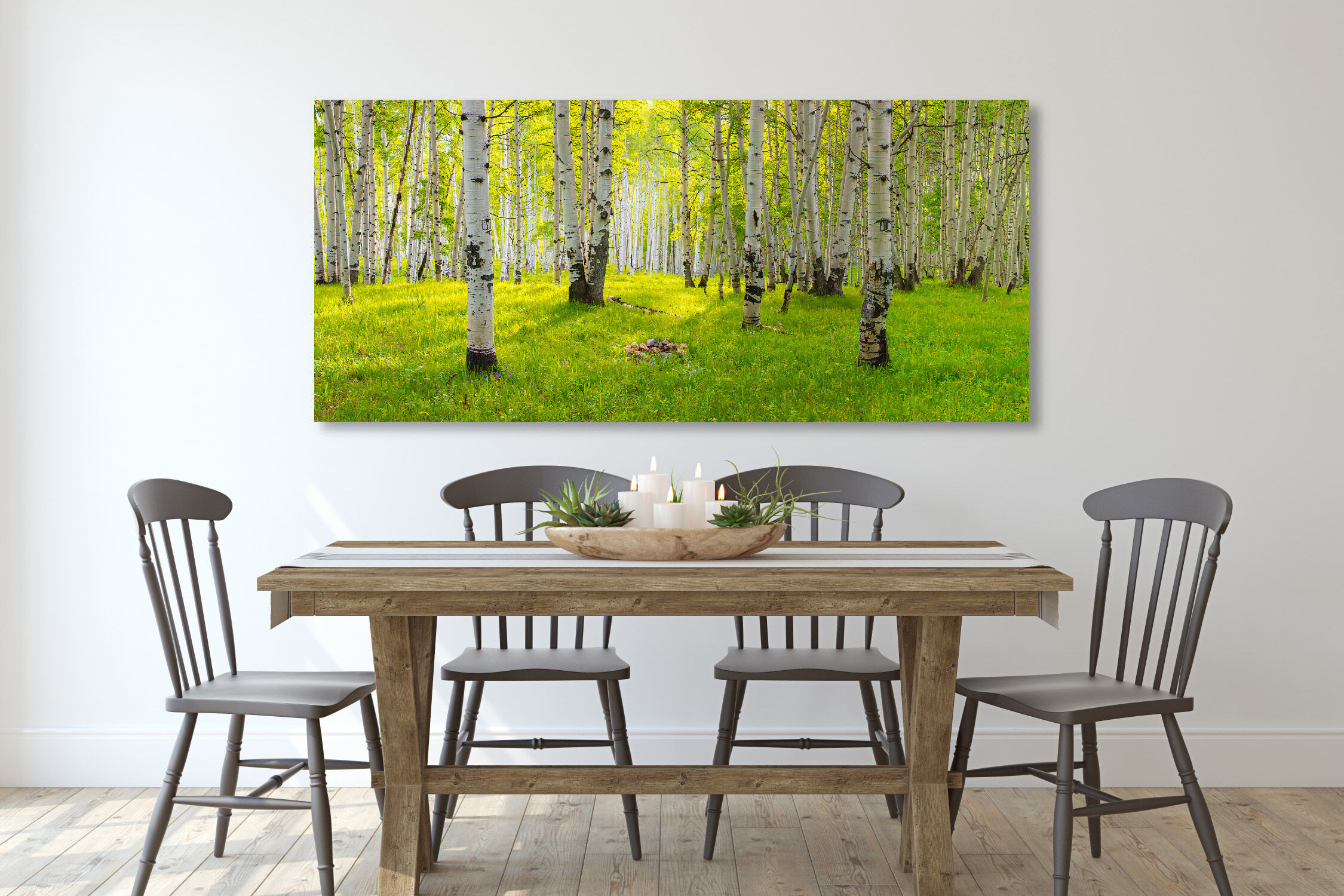 The space you are trying to fill will be the primary determination of the shape, or aspect ratio, of the image you choose. For example, above a sofa or bed, a panoramic image typically works best. Panoramic images are wider than they are tall and are a great way to fill a long, narrow space. For example, this image of Colorado Aspen trees in the Springtime is a panoramic image that works great in a dining area.
---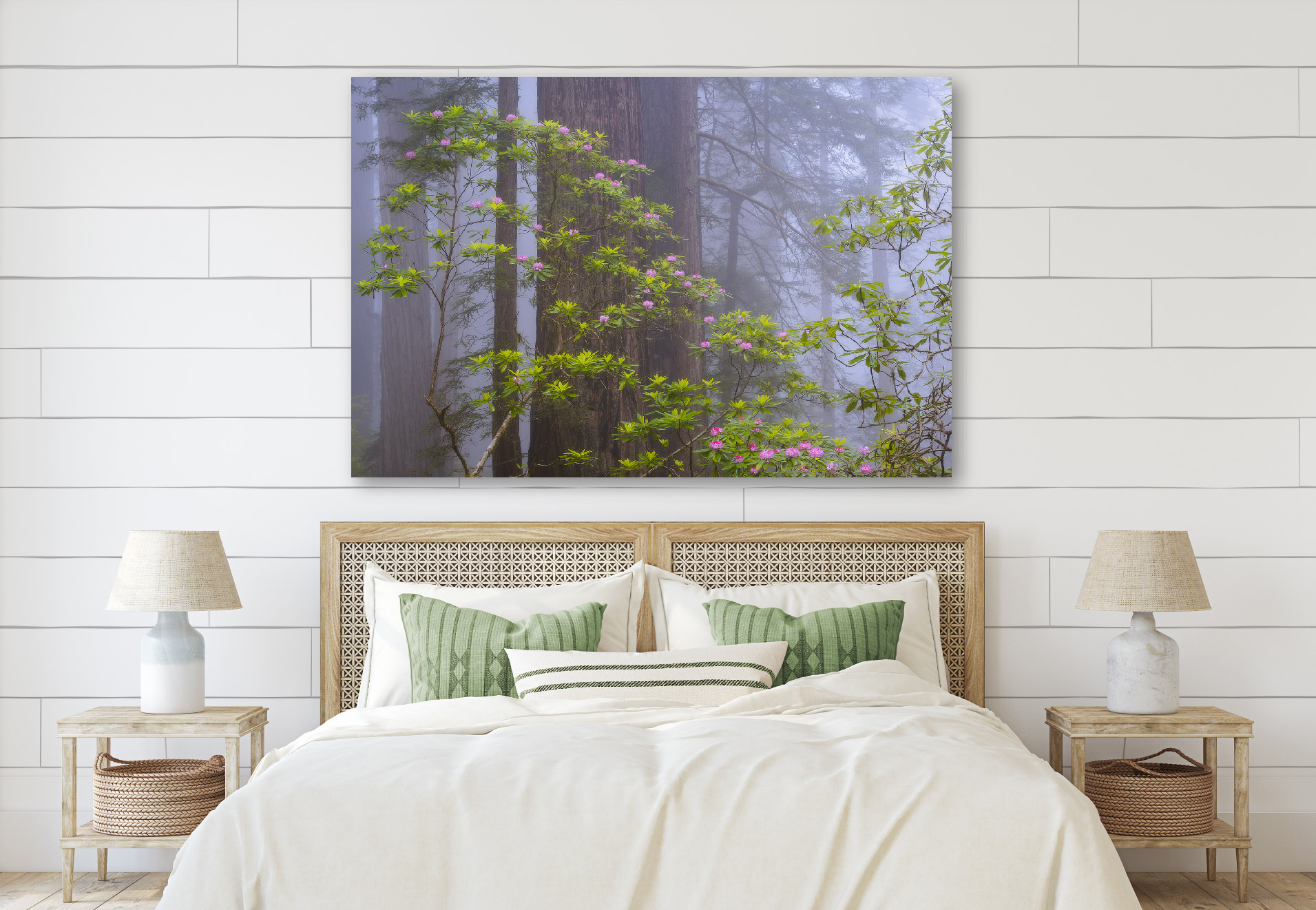 While panoramic images typically look great above a bed or sofa, don't dismiss using standard image ratios in these spaces! For example, this 40" x 60" which is considered a standard print ratio of 2:3.
---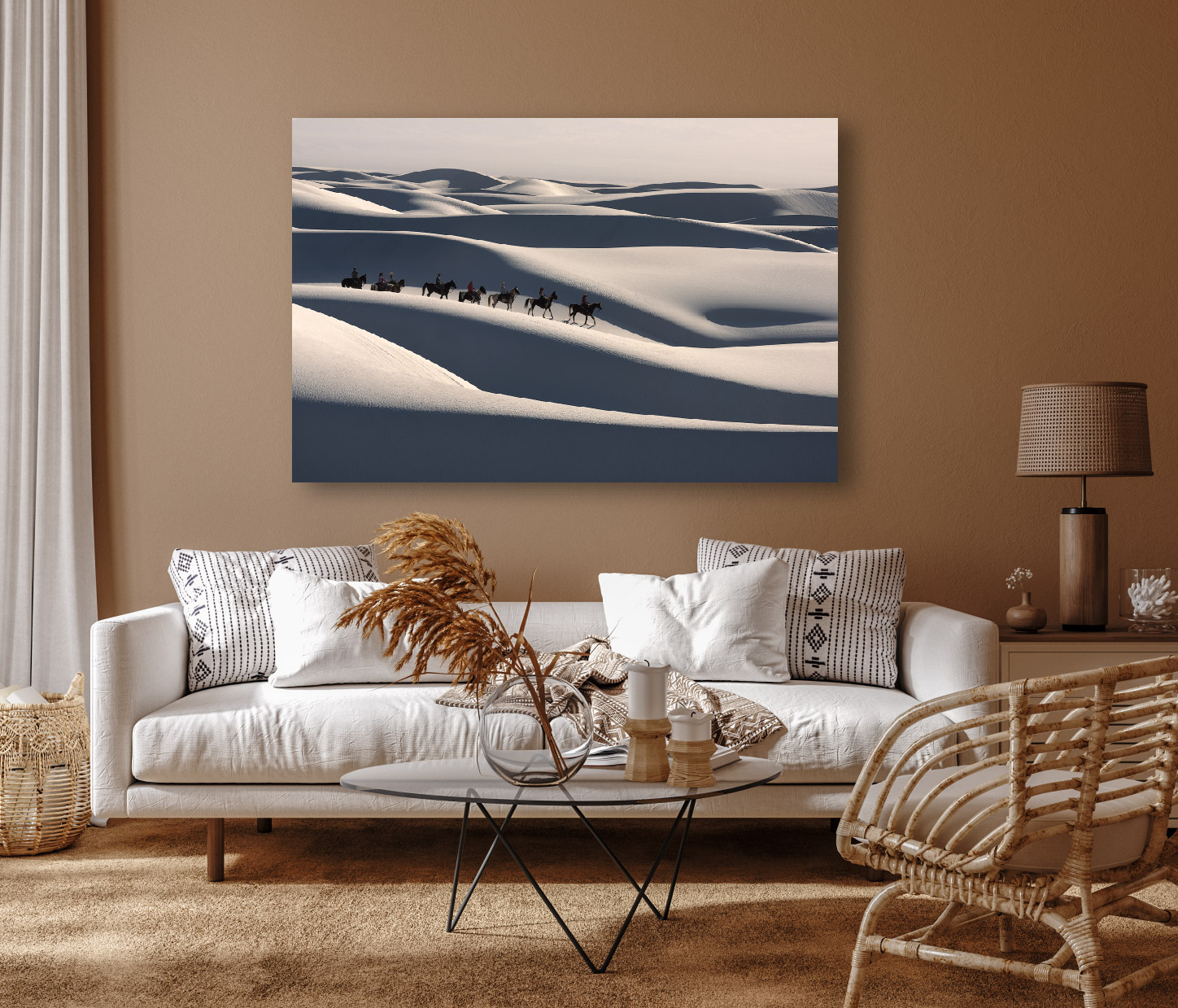 Even above a sofa, a standard print ratio can work beautifully. Check out this incredible print of 'Riding White Sands' above a sofa.

---
Matching Current Décor With Your Fine Art Photography Prints
Another consideration to be given is matching your color scheme. As you'll note in each of the above images, the print in the room was chosen based not only on color but on style and theme of the current decor. With the wide variety of prints in Kane Engelbert's online collection, you're sure to find a print with the color and style to match your decor.
Sometimes it's not only the color, like the splash of green in the pillows that sit below 'Pink Sapphires' in the above image, it can be the style of the room that matches. In the example below, the rustic feel of the image matches the rustic feel of the loft while bringing in the bright, vibrant color that is accentuated by the natural light.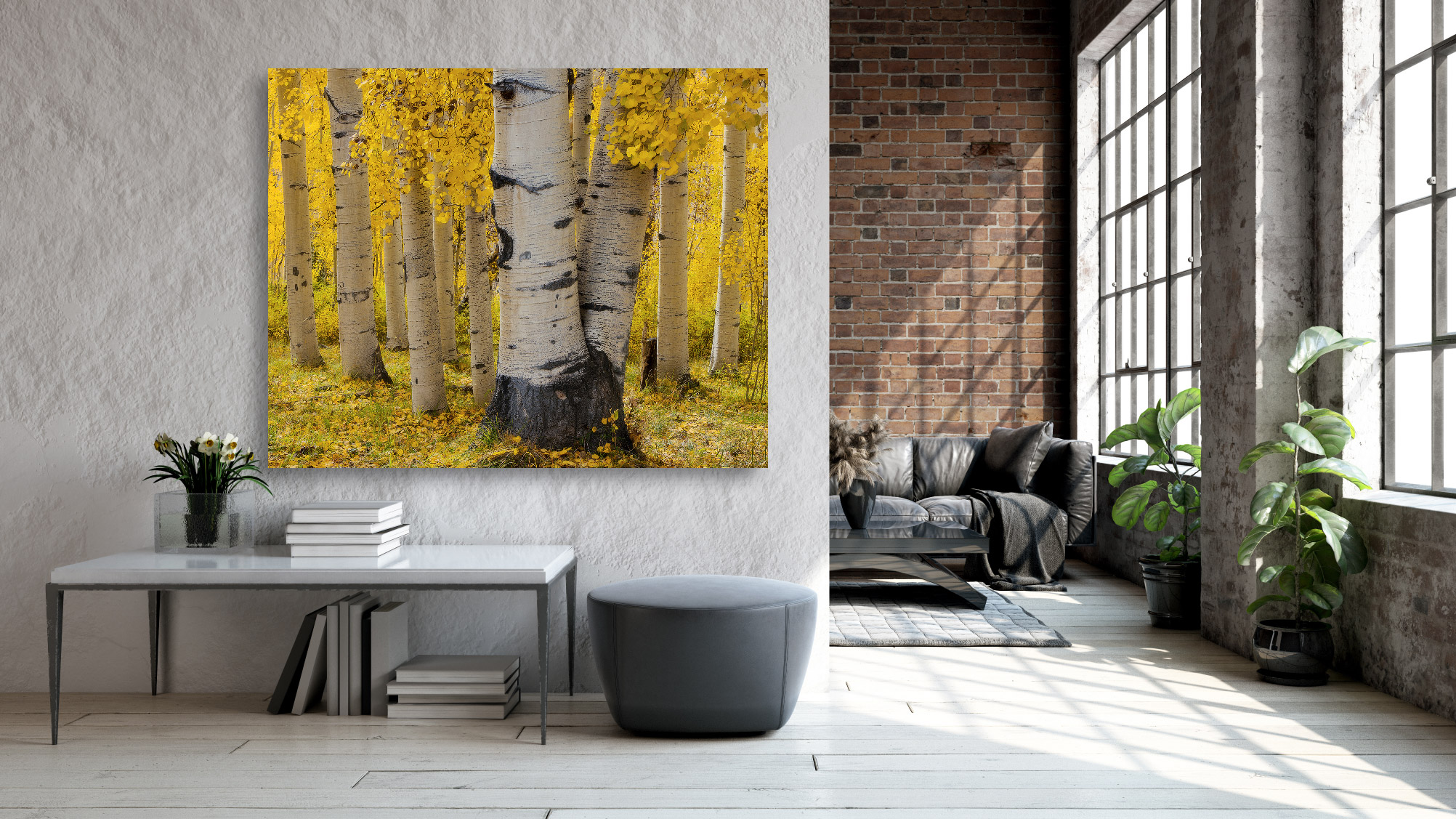 ---
Create a Relaxing Space with Your Fine Art Prints
Scientific studies have shown that being around and in nature reduces stress. Now consider bringing that to the bathtub where you go for a nice long soak to melt away the stress away from the day. Here's an example of a sweet abstract print of fall color leaves on water adding some color and relaxing imagery to a bathroom space. This is a space many tend to ignore or forget about despite the amount of time we all spend getting for and rushing to or trying to unwind from our days!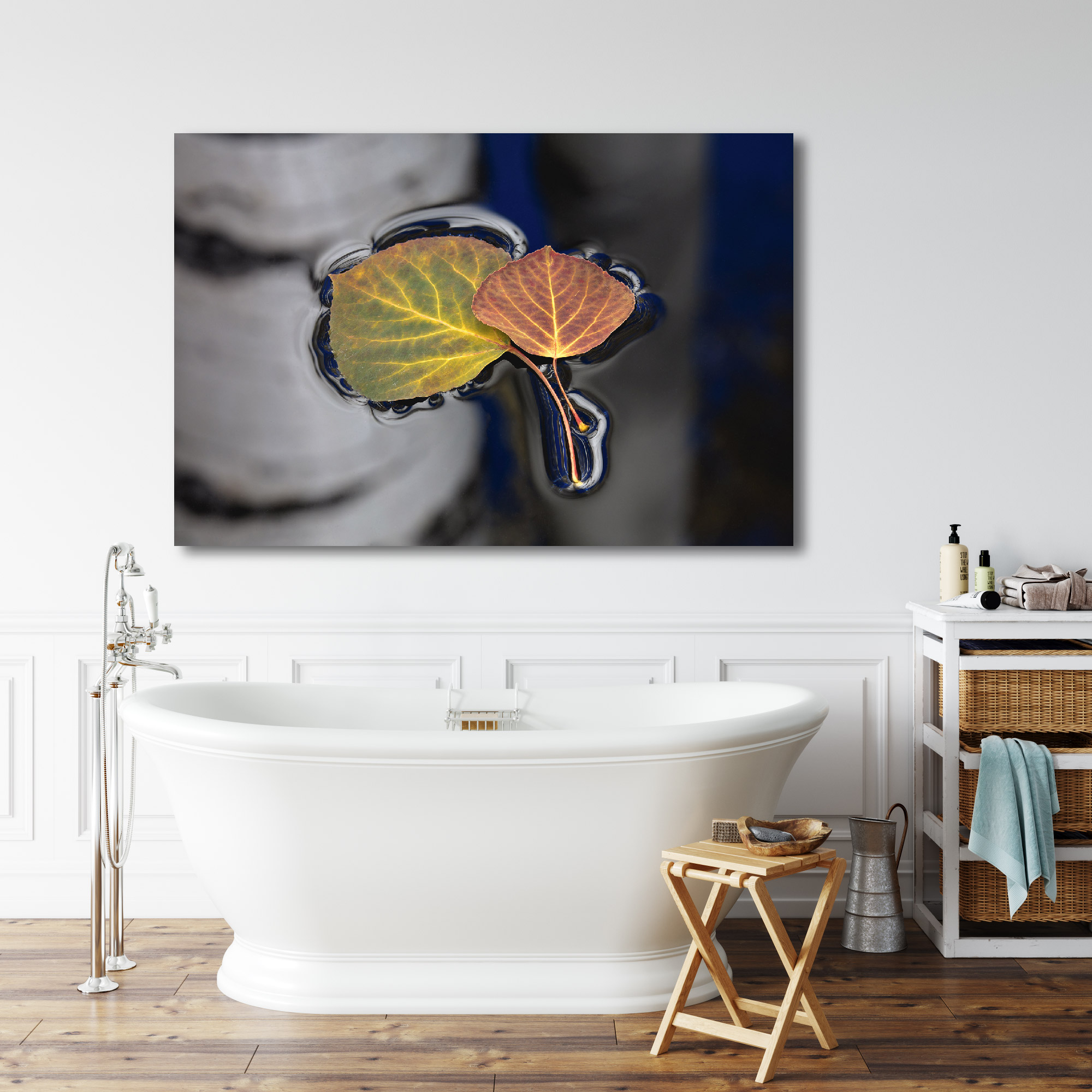 Kane Engelbert has a full collection of aspen tree images or pictures of redwood trees to help you relax with a cup of coffee at the start of your day unwind with at the end of your day.
---
What Print Medium Should I Choose? Acrylic, Float Plaq, or Paper?
By far, the artist and art connoisseur would choose a TruLife® Acrylic print. The durability, the clarity, depth and vibrancy would win hands down. However, Kane recognizes that options and price point are factors in selecting art and offers both paper prints, which require a mat and frame and glass, as well as Float Plaqs and TruLife® Acrylic prints that arrive ready to hang. Regardless of print medium, Kane uses labs in the United States that print on the most advanced museum quality, archival grade materials so you can be sure you're receiving a quality fine art print. Kane provides a full review of the different print mediums available and can be contacted directly with any questions you may have.
---
What If I Need Help Selecting a Print for my Space?
If you'd like help selecting a print for your space, don't hesitate to reach out to Kane directly for assistance. Kane's years of experience and knowledge of prints available both on and off his website will provide the answers you need to feel confident in your purchase of a fine art print.
---
Creative Fine Art Nature and Landscape Prints for Wall Art Decor