Buttes bathed in Light-Vertical
Grand Canyon National Park, Arizona
Print Only: Metallic Paper-Fuji Pearl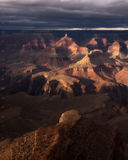 Meeting more fine art demands, and my personal favorite, metallic prints are sure to please anyone seeking a paper with a slightly metallic surface and higher gloss than the regular paper. These prints yield a pearlescent metallic sheen that gives prints a sharp, vibrant, and exceptionally rich looking appearance. This paper looks much like traditional 'wet' photo paper with the control of an inkjet printer. Overall, Metallic Paper works well with all scenes, but it's the intimate forest and stream scenes that are vibrantly enhanced with Metallic. I recommend Metallic paper with virtually all of my images.
Select a print size:
Print Only: Luster Paper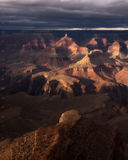 This archival premium quality photo paper is slightly textured and maintains a satin (or luster) surface that will not show fingerprints or reflect glare like gloss papers. Its color accuracy is top notch. It has excellent ink retention properties yielding an exceptionally large color gamut for bright, realistically saturated colors and accurate skin tones. I prefer Luster paper to properly convey large scenes, or what we photographers refer to as a "Grand Scenic."
Select a print size:
Float Mounted Plaq: Ready To Hang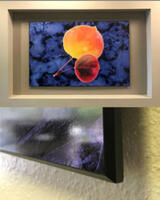 FloatPlaqs give your image dimension to appear as if it is floating off the wall. FloatPlaqs are quickly becoming a favorite for fine art galleries and artists alike and provide the buyer with a clean, classy and inexpensive alternative to traditional expensive framing and matting. Both Metallic and Luster prints can be mounted on the float plaq. Please specify when ordering.
The image is mounted on an acid-free 3/8" thick surface, finished with a 3/16" black beveled edge, and given a ¾" deep backing to create a floating effect. The backing is recessed from the edge such that it is not easily seen. A simple French cleat system is provided to securely mount and display a FloatPlaq. When purchasing a float plaq, you get to select from either Luster or Metallic Paper. Please let me know in the PayPal "notes" which paper you prefer. Otherwise I will reach out to you with your preference.
Select a print size:
Glossy Metal Prints-Ready to Hang
Metal Prints are all the new rage in Gallery and Market products. These ink infused metal prints provide an unmatched vibrant punch in color and luminance. Using a superior quality printing process, images are printed to a transfer paper then infused into a material through a dye sublimation process. The result is a glossy, durable photo that is completely water proof. With amazing 1440x1440 resolution, the high gloss infused print gives the effect as if you are viewing your print through a window, often providing a slight 3D look and feel.
Your metal print will float off the wall with a 1/2 inch recessed backing and metal cleat hanger. If you are interested in a flush mounted box presentation with a cleat system, please reach out to my via my Contact link above. Price may slightly vary.

Due to the nature of printing, or infusing ink into aluminum, there may be barely noticeable.. but normal texture variations on the surface of the aluminum. I do not offer replacements for natural aluminum variations with infused printing.

Select a print size:
TruLife Acrylic Fine Art Masterpiece
Select a print size: