Print Only: Metallic Paper-Fuji Pearl
Meeting more fine art demands, and my personal favorite, metallic prints are sure to please anyone seeking a paper with a slightly pearl-esque metallic surface and higher gloss than the regular paper. These prints yield a pearlescent metallic sheen that gives prints a sharp, vibrant, and exceptionally rich looking appearance. This paper looks much like traditional 'wet' photo paper with the control of an inkjet printer. This paper maintains the 115 year Wilhelm Institute archival rating.
Select a print size:
Print Only: Luster Paper
This archival premium photo paper is slightly textured and maintains a Matte-like surface with top notch color accuracy, does not show fingerprints or reflect glare. It has excellent ink retention properties yielding an exceptionally large color gamut for bright, realistically saturated colors. This paper maintains the 115 year Wilhelm Institute archival rating.
Select a print size:
Float Mounted Plaq- Ready To Hang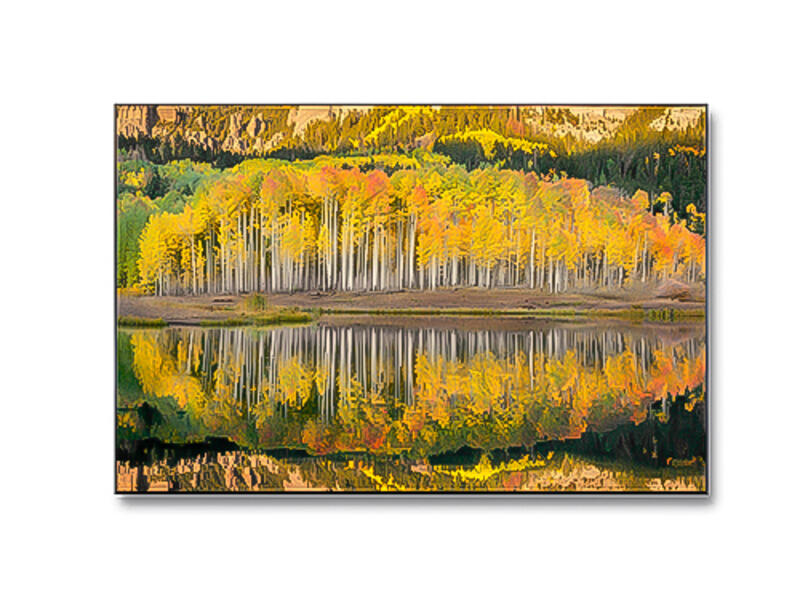 "Float Plaqs" have recently gained in popularity with galleries due their budget-friendly affordability and clean contemporary look that accentuates the print only. After hanging the Float Plaq delivers a slight 3D dimension to your image appearing as floating off your wall.
Process

Your selected Luster or Metallic print is mounted on a premium acid free 3/8" thick recycled and eco-friendly wood surface. The print is sealed with a Satin finish that provides UV protection and moisture resistance and allows for simple cleaning. The Plaq is finished off with a 3/16" black beveled edge and given a recessed 3/4" deep backing that creates the float effect. The backing is recessed from the edge such that it is not easy seen. A very simple French Cleat Hanging system insures your image mounts to any wall of choice in just minutes.
Benefits of Float Plaq's

Budget Friendly & Beautiful.
Luster or Metallic Papers achieve top Quality color depth and tonalities.
UV protected
Accentuates only the image, without clunky matting or expensive framing.
Moisture & Abrasion resistant and easily cleans with Non ammonia cleaners.
Select a print size:
TruLife Acrylic Fine Art- Ready to Hang
TrueLife Diasec Acrylics
DIASEC® acrylic face-mounts are the premier presentation system for bringing detail, color and tonal range to life in a way that traditional artwork and photo framing cannot. By combining the light penetration and refraction of clear acrylic, it brings out brilliant colors and clarity not seen in the average archival print. DIASEC® is ideally suited for artists, galleries and collectors who demand the best.
A typical painting will use a layer of varnish for protection, while a typical photograph will use a layer of glass for protection. An acrylic face-mount uses a sheet of acrylic for protection, whereby the acrylic is mounted directly to the face of the archival print with a proprietary DIASEC® gel adhesive layer. The gel adhesive layer and acrylic sheet act much like the varnish on a painting or the glass on a photograph. However, by permanently mounting the acrylic directly to the face of the archival print, it provides the print with much greater UV protection and longevity. Furthermore, it creates a super- saturated and luminous appearance, inviting the viewer into the scene. Furthermore, TruLife acrylic is anti-reflective, scratch-resistant and can withstand the harsh chemicals found in cleaners.

Process

It starts with a Fuji Flex Photographic polyester print media. The face of the Fine Art Print is coated with a proprietary, optically-clear, UV protective gel called DIASEC to help maximize the print's longevity and permanently bond it to a lens-grade acrylic sheet. Another sheet of acrylic is flush- mounted to the reverse side using significant controlled pressure to ensure a beautiful and unified presentation. Finally, the edges are hand-buffed to a soft satin finish and leaves a more defined edge. The back of the print features an inset black aluminum float frame and Z-bar hanging system for extra stability. An archival Certificate of Authenticity is mounted on the back and hand-signed by the artist. It ships with a protective film on the front plus a microfiber cleaning cloth and comes ready to hang with all the necessary hardware.
Benefits of TruLife Acrylic

Blocks up to 99% of harmful UV Rays.
Achieves the most vibrant colors, depth, and clarity.
TruLife also Reduces reflections with an anti-reflective coating.
Abrasion resistant. Durable hard coat protects against scratches.
Cleans like glass. No special acrylic cleaners are needed.
Shatter resistant safeguards to protect against injury and damage to artwork.
TruLife Acrylic is also anti-static and protects from gathering dust.
Art Museum approved.
1/8" thick only available.
Select a print size: