The American Southwest is filled with incredible views that bring incredible opportunity for adventure and exploration as you weave through small towns and take in al the texture of the area. Utah, in particular has a set of five national parks that are impressive enough to be known as The Mighty Five. These parks are:

Zion National Park
Bryce Canyon National Park
Capitol Reef National Park
Canyonlands National Park
Arches National Park
Each has incredible opportunity and diversity that we'll review in this post.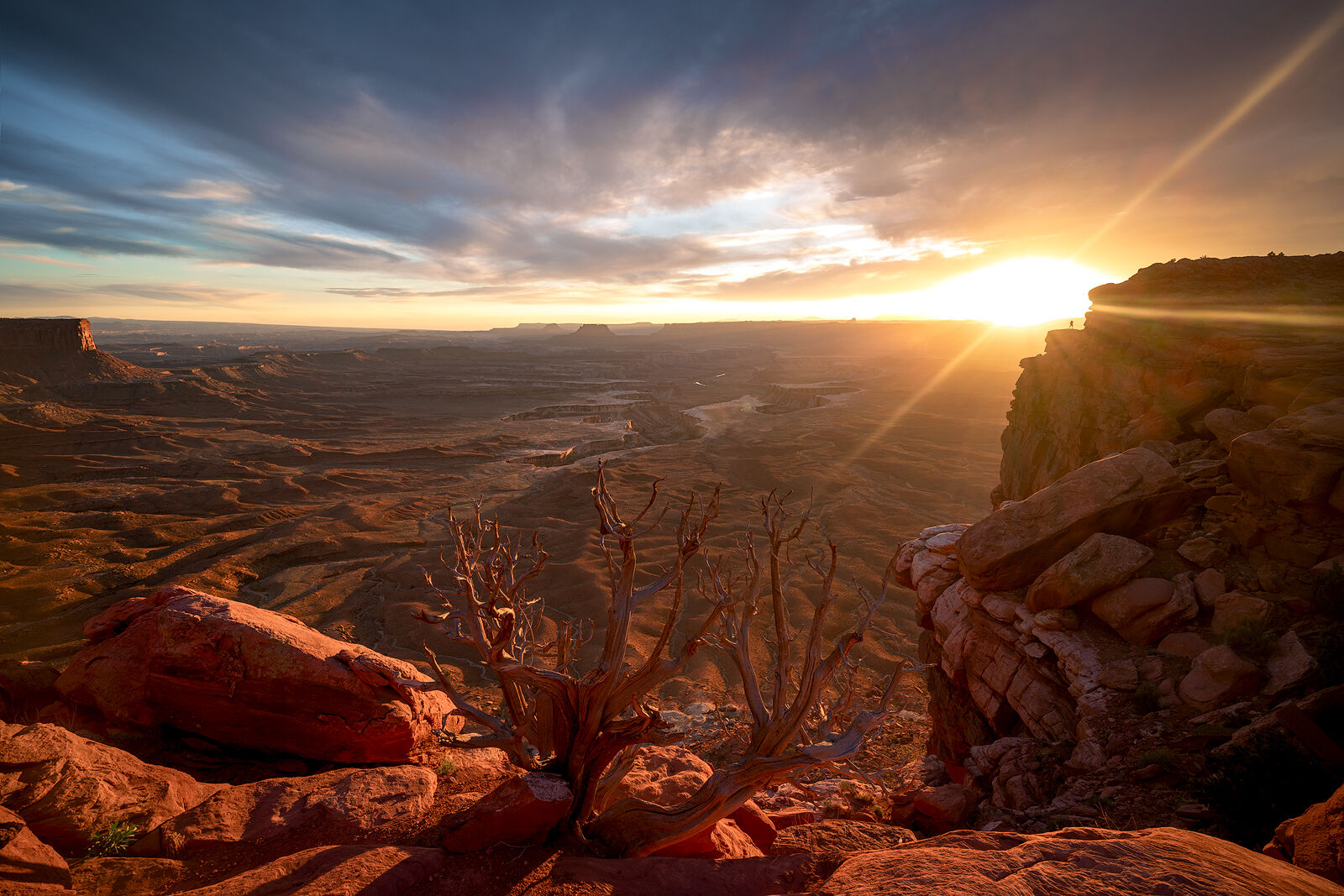 Check out Kane Engelbert's stunning galleries of Zion, Bryce Canyon, Capitol Reef, Arches & Canyonlands!
---
Zion was Utah's first national park and is located in Springdale, Utah. It has dozens of canyons to explore with many slot canyons barely wide enough for a person to pass through. Navigating Zion's requirements for permits and timing your trip are critical. Check out everything you need to know about canyoneering at Zion.
The Narrows is the narrowest section of Zion Canyon and can be reached via the bottom-up hike from The Temple of Sinawava, with no wilderness permit required. This hallmark of the park has waterfalls, hanging gardens, and plenty of springtime flowers. You can also do a through-hike from Chamberlain's Ranch, which requires a wilderness permit.
Other sites in Zion include the Left Fork, or Subway hike, which always requires a wilderness permit. You can also submit for the lottery two months in advance of your trip. Note you can purchase all lottery entries and permits through recreation.gov.
Hiking in Zion can bring you to some incredible places like Angel's Landing, the desert oasis of Emerald Pools and The Watchman are among the best and most popular.
Kane Engelbert has a full online collection of images from Zion National Park to transform your home or business space!
---
Bryce Canyon National Park is filled with the largest concentration of hoodoos anywhere on Earth. Hoodoos are tall, irregular spires of rock that are formed by years of erosion. The name comes from the Hoodoo spirituality and also has Native American origins where hoodoos were thought to be petrified remains of those who were punished for misbehaving.
Must sees in Bryce Canyon include Wall Street with tall canyon walls and a scenic hike right into the Navajo Loop Trail. The Bryce Amphitheater can been seen on a scenic drive in winter, spring, summer or fall and has many overlooks along the main road to view this area.
The best viewpoints are Bryce Point, Inspiration Point, Sunset Point, and Sunrise Point.
Bryce Canyon is named for shipbuilder Ebenezer Bryce, who came to the Paria Valley in 1870. He traveled west with Brigham Young and Mormon pioneers to construct new buildings for communities across the new land.

Bryce Canyon with snow is an incredible sight! Kane has many impressive images of Zion and Bryce Canyon in his online gallery!
---
Capitol Reef is a hidden treasure near the town of Torrey in south central Utah. On the west side of the park the communities of Grover, Teasdale, Bicknell, Lyman and Loa, provide places to stay when visiting the park.
A long up-thrust formation called the Waterpocket Fold is nearly 100 miles long and runs from Thousand Mountain Lake to Lake Powell which has many options for lodging and rafting. The park has many white sandstone cliffs with domes that resemble those placed on capitol buildings which is how the park got its name. Reef is any rock formation that impedes travel, whether on land or in the ocean.
Sites to see within the park are:
Chimney Rock - 400 feet of sandstone pillar is accessible with a short hike
Panorama Point - Just off Highway 24 this viewpoint gives a spectacular view of the park
Sunset Point shares a parking lot with the Goosenecks Overlook so you can get two bird with one stone here!
Petroglyphs - rock art figures created by Native Americans carved into the rock wall
Fruita - Here you can find the visitor center and a small historic area with buildings. This is where many of the hikes start and where you can find the campgrounds.
Don't miss Kane's full collection of images from Capitol Reef and Hanksville!
---
Canyonlands National Park has endless dramatic desert landscape that has been carved by the Colorado River. It's divided naturally by rivers into four districts:
Primarily a desert feel and landscape, there are many opportunities for incredible sights and adventure.
If you're looking for a package deal to visit Canyonlands you can select a hotel, tours, camping, and river rafting package to fit your level of adventure!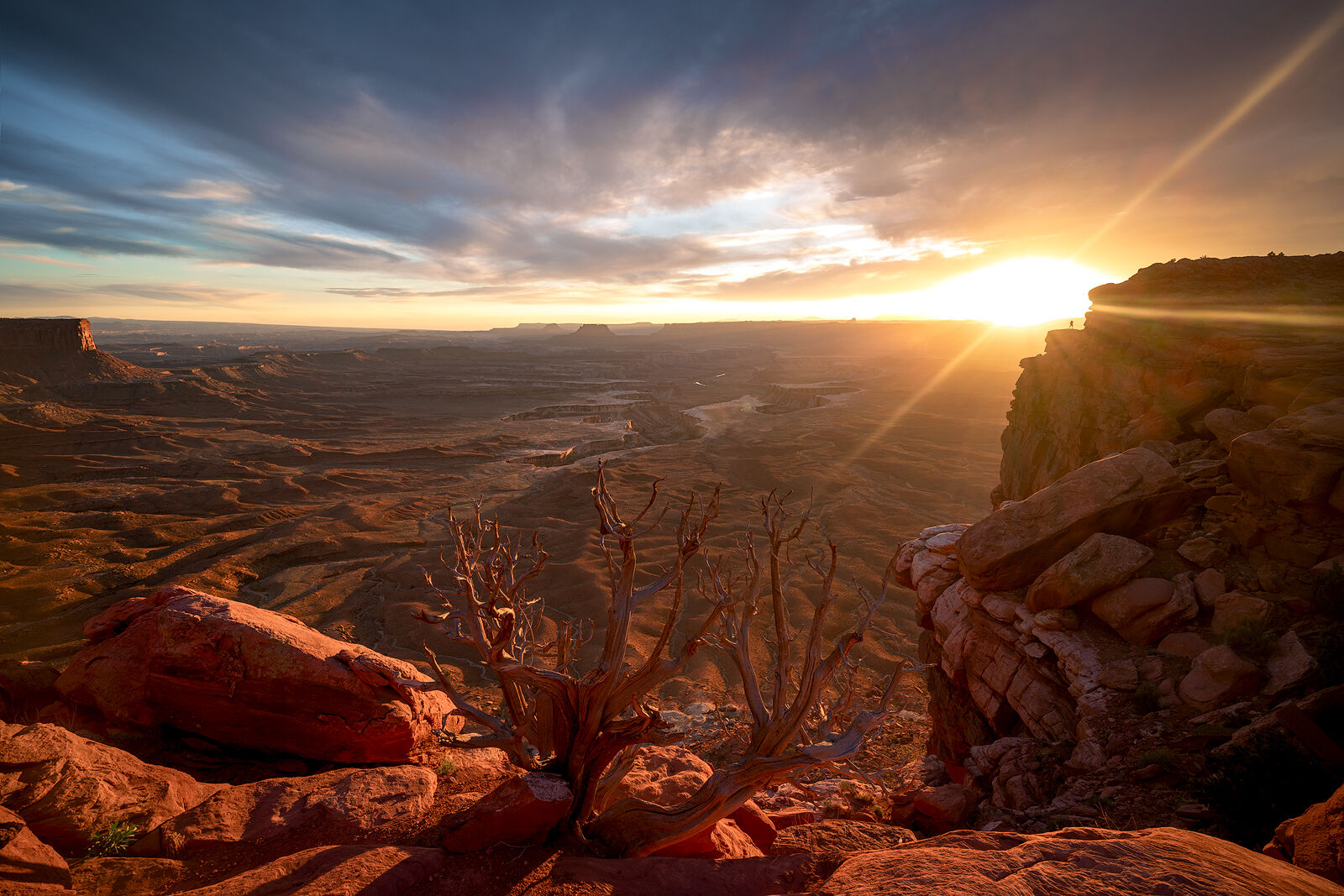 Check out Kane Engelbert's full gallery of Canyonlands and Arches images!
---
Arches National Park lies just north of Moab, Utah and has an impressive 2,000+ natural sandstone arches. It's a place like you've never seen with colossal rock fins, stone bridges, windows, and massive balanced rocks.
You do need a timed-entry permit to enter arches to be sure to plan your visit carefully. Again, find the information you need at nps.gov and purchase permits and passes at recreation.gov.
While in Arches you can find camping and the major park highlights:
Delicate Arch - 52 feet tall free-standing arch. The hike to the arch itself is a steep one but you can also see it from a lower viewpoint if you don't care to hit the slopes.
Balanced Rock - This is a pretty easy hike at only 0.3 miles.
Double Arch - This is the tallest and second longest arch in the park. The hike to get to it is under a mile so it's easily accessible.
Landscape Arch - THis is the longest arch in the park but the path under it is closed. While still standing at the time this was written, that may not be the case for long.
The Windows - Said by some to be "the beating heart of Arches National Park", there are three massive arches in very close vicinity: North Window Arch, South Window Arch, and Turret Arch


---
Whether you pick just one or are determine to hit all of The Might Five, you can't go wrong. One thing is certain: Adventure awaits. Soak it up!